The 'Cut' is the most quintessential characteristic of a diamond quality that impacts a diamond's exquisiteness. Diamond-Cut especially relates to the quality of a diamond's angles, proportions, symmetrical facets, brilliance, fire, scintillation, and finishing details. Also, more than any other aspect, the cut determines the beauty of the stone & add value to diamond jewelry.
The ideal and excellent grades, as per the diamond shape, shows symmetries, and angles cut for maximum brilliance and fire. The GIA diamond cut chart grades diamond cut on the scale of
Ideal - Excellent, Very Good, Good, Fair, and Poor.
• Brightness: A diamond reflects both internal and external white light.
• Scintillation: The quantity of sparkle a diamond creates, as well as the pattern of light and dark areas formed by reflections within the diamond.
• Fire: The dispersion of white light into all the colors of the rainbow.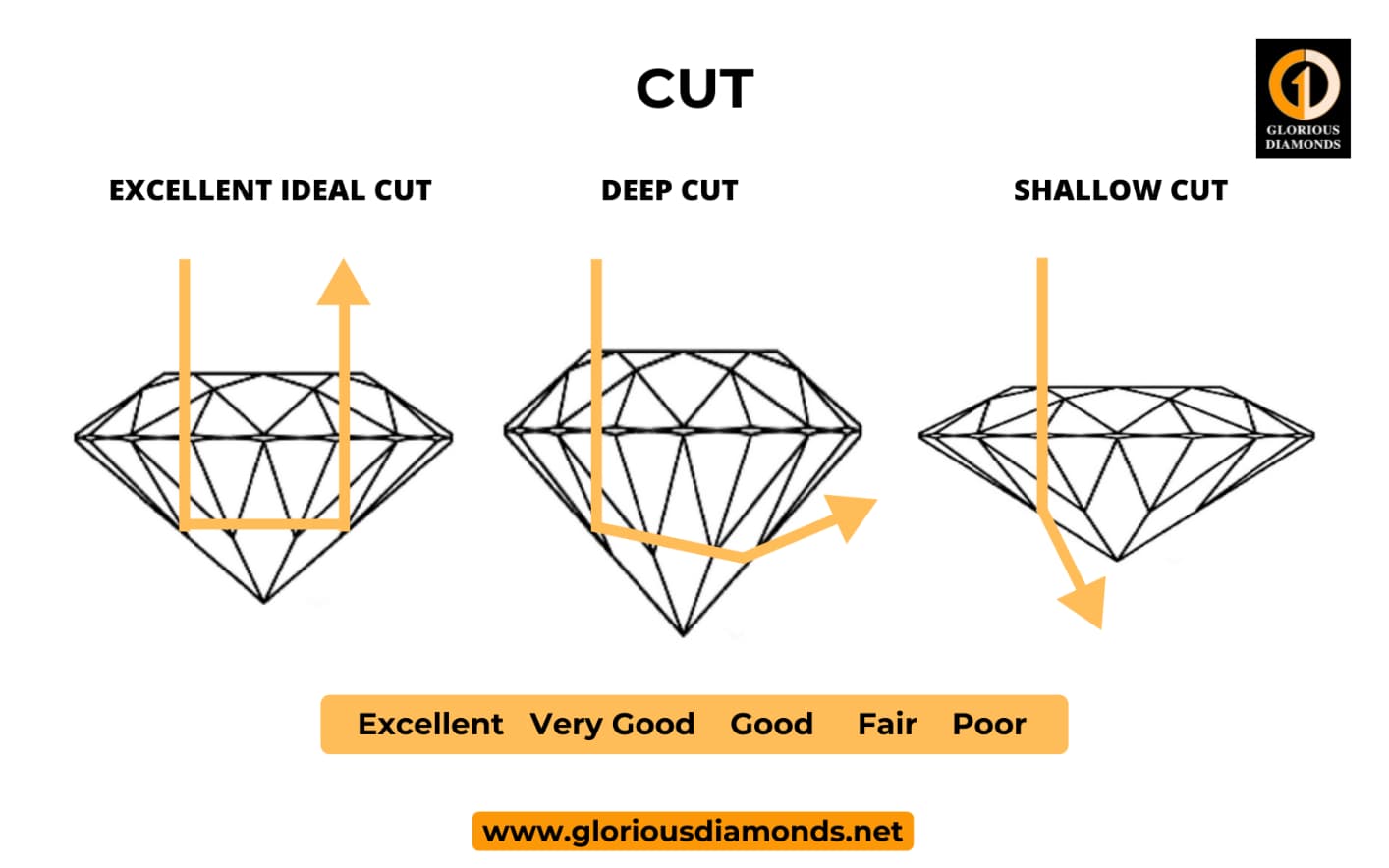 GIA DIAMOND CUT GRADE CHART
A professional gemologist at the GIA reviews each diamond under magnification to determine the Cut grade. Here are the GIA diamonds cut grades:
| | |
| --- | --- |
| Excellent | Excellent Cut Diamonds have even more fire and luster of any diamond |
| Very Good | Very Good Cut Diamonds are known for their brightness and fire. Very Good diamonds appear to sparkle similarly to Excellent diamonds with naked eye |
| Good | Good Cut Diamonds represents brilliance and sparkle, with much of the light reflecting through the table to the viewer's eye. |
| Fair | Light easily departs through the bottom and sides of a fair cut diamond, resulting in minimal brilliance. |
| Poor | Poor cut diamonds have almost no radiance, brilliance, or fire. |