A diamond wholesaler is a company quote diamonds in very reasonable price and then sells them to diamond traders, jewelry manufacturer, jewelry shop, jewelry store, jewelry retailer, online jewelry seller, online diamond enterprises, VIP customers, celebrities, end user or consumers. As they buy directly from Glorious Diamonds, they get a significant discount on diamonds.
We use the term "wholesale" to describe trading in which a customer gets special price from a diamond manufacturer and, as a result, we are able to offer a considerably lower price than what the ultimate user of the product will pay.
The wholesale diamond price is the amount of money offered for sale to clients at just above the cost price that is as close to the cost price and best. A price is the sum of the cost price of a certain diamond plus the minimal profit margin charged for a diamond sold to our valuable customer. Maintaining a minimum profit margin forces us to sell at FIX PRICE only.
Beautiful GIA certified diamonds at the most competitive prices in the jewelry business are available at Glorious Diamonds. An honest reliable & trustworthy source of best quality diamonds.
Why Should Buy Diamond Wholesale Price With "Glorious Diamonds"
Buying a diamond in wholesale price is an excellent decision. It can help you save a huge amount of money and ensure you get the best diamond for your budget. It also allows you the flexibility to have the diamond set into a jewelry design and setting of your choice, making for a personalized, one-of-a-kind piece of jewelry.
While buying from retailers, you have a limited selection of diamonds and a high markup, wholesalers always have a huge assortment from which you can select loose certificate diamonds according to your preferences, thus it does follow the wholesale principle fairly closely.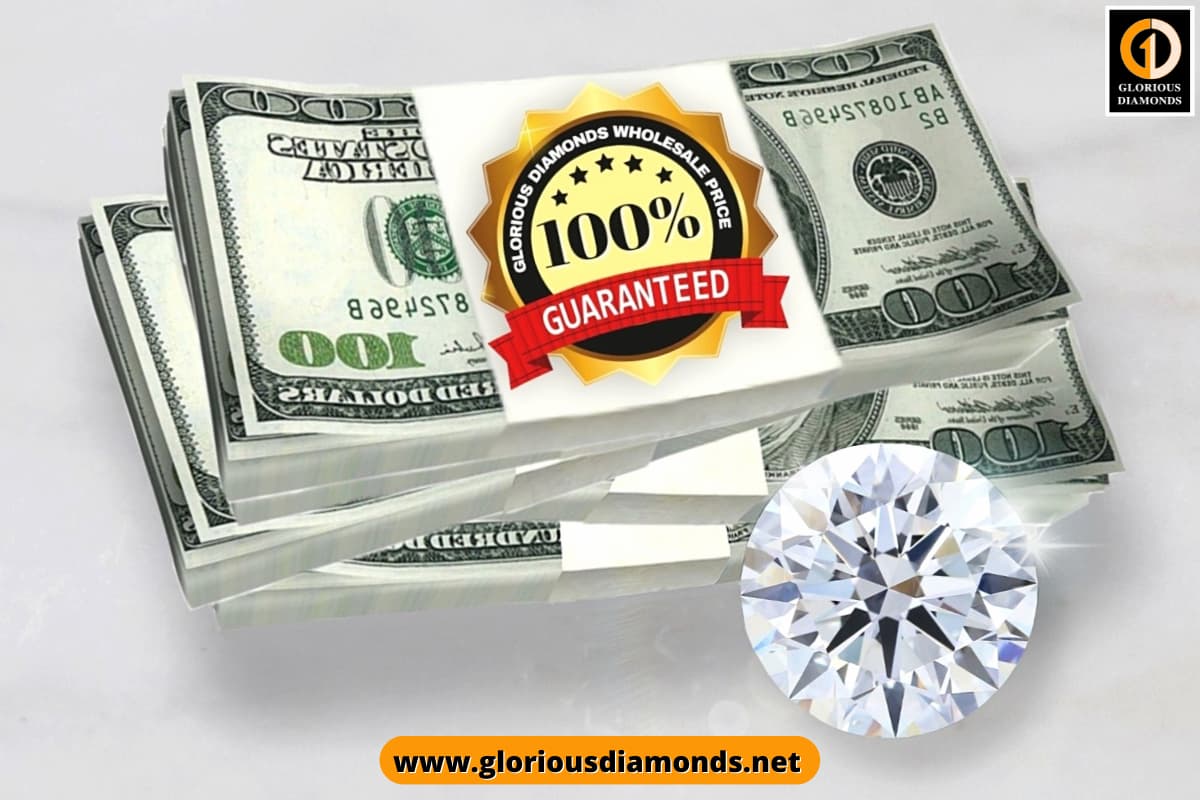 Diamond Wholesaler - Glorious Diamonds
• Glorious Diamonds offers GIA certified natural wholesale loose diamonds of exceptional quality, allowing you to create diamond jewelry with dazzling fire and brilliance. The wholesale loose diamonds from Glorious Diamonds can be bought at a reasonable price with 'No Commission.'


• 50,000 plus certified stones are available online for B2B customers & retail customers. Offering wide range of the world's best diamonds availability of 0.18 to 50 carats plus sizes in more than ten different shapes.


• Also, it becomes easy to inspect every minute detail about the loose diamonds such as checking for any inclusion or blemish only when it is not mounted in a ring. Because they are purchased in big numbers for VIP high class customers & potential consumers.


• So, all the diamond lovers around the globe can purchase diamonds from Glorious Diamonds with 'No Brokerage' at distinct prices that ishighly affordable.


• Glorious Diamonds is committed to consistently offer the highest quality diamonds at very competitive wholesale prices.



What are the Benefits of Buying Wholesale Diamonds?

Loose Certified Diamonds Hold Value Longer.

Certified loose diamonds have a higher resale value than diamonds set in jewelry such as engagement rings, necklaces, bracelets, or earrings. Although diamond values change over time, certified diamonds are always more valuable.




A wholesale diamond has the best price.

The concept of wholesale diamonds has added flexibility to the trade of diamonds. The dealers of wholesale diamonds usually offer diamonds to customers at a competitive rate: lower loose diamonds wholesale prices compared to retail diamond prices.




No Middleman

When you buy diamonds wholesale, you are purchasing them straight from the wholesaler at a considerably lower price than you would pay at a jewelry store. Buying diamonds wholesale eliminates the middlemen and their large markups, so it's a win-win situation for both you and the wholesaler.




Many More Options for You

Wholesalers have a wide assortment of stones to choose from. When you buy diamonds from a wholesaler, however, you may be sure to get the stone of your desires at a price that fits your budget and that you can have designed into a unique setting.